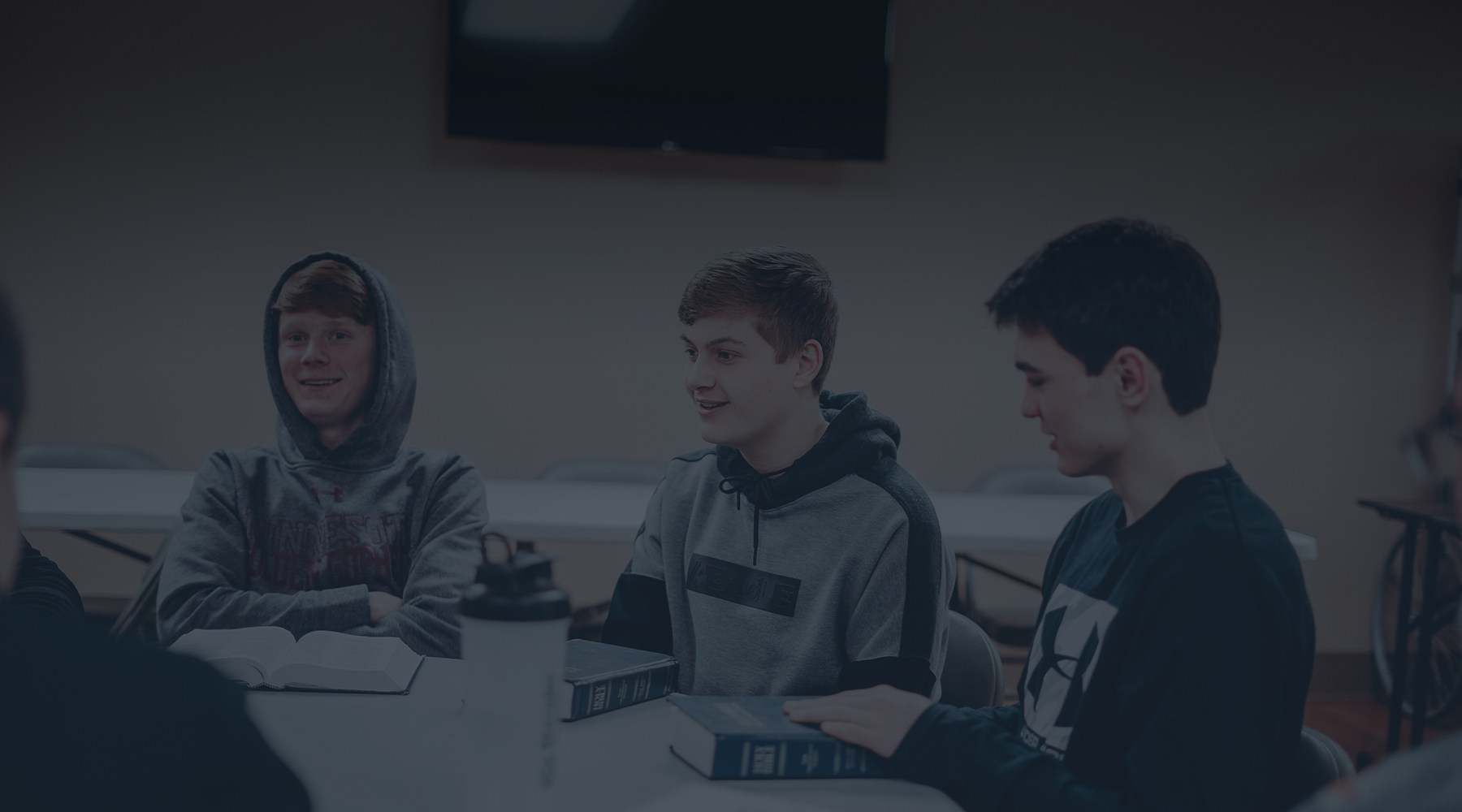 Middle School Ministry (6-8th grade)
Beginning September 23, Middle School and High School Ministries will be continuing our In-Person
Services that all students are invited to attend.
We will do our best to provide a safe environment that's fun and full of Jesus! For families that would
prefer to view online, services will be streamed live and can also be accessed and viewed later on-demand on our youtube channel at your convenience. We will also be continuing small groups to help young people embrace and live their faith in a group of their peers and led by an adult leader. Initially, those groups will take place outside our buildings - in green spaces, parking lots, in homes (with background checked adults present) other places in the community, or digitally.
Please click here for High School, and here for Middle School to register for the upcoming year - registering will give us an idea of who is planning on joining us whether in person, online or unsure
. Our team and volunteers are so excited
help every student embrace and live their faith this fall
and beyond - let us know if you have any questions.
__________
During Hosanna Church's Middle School Ministry, students are given an opportunity to embrace the faith through small groups, Jesus-centered teaching, engaging worship, serving opportunities and prayer ministry.
According to our vision, Confirmation is an optional milestone that marks the transition from embracing the faith to living the faith.
Our first night of programming will be Wednesday, September 23, 2020, either online or together in person. Please look for email communications from Student Ministries throughout the summer.
Register
Register for 2020-2021 Middle School Ministry by clicking your campus
Email with any questions.
Curriculum
If you would like to view past or current sermon recordings from Student Ministries, please visit Vimeo or email with what you are looking for.
We will challenge students to embrace the faith and make it their own by covering relevant topics and key pieces of what it looks like to be a follower of Jesus today. Teaching topics include: the radical life of Jesus, his death and resurrection, our identity in Christ, sharing our faith, serving others, the Bible, prayer, worship, and the Holy Spirit.
Key Mile Markers on a student's journey towards Embracing the Faith include:
7th and 8th Grade Retreats

Confirmation

Small Groups

Transition to 6th Grade
Confirmation
Confirmation at Hosanna Church is a chance for students to publicly acknowledge faith in Jesus Christ and make their faith their own. Confirmation is not the "end" of one's faith journey, nor is it equivalent to salvation. Confirmation students affirm they are on a personal journey to know Christ more. Participation in Confirmation is an optional part of our Middle School Ministry. Regardless of the choice to go through confirmation, all 8th-grade students will transition to the High School Ministry as a small group in the spring.
What is the Confirmation Process?
The Confirmation process ideally begins in 6th grade in the Middle School Ministry (MSM), though students may join as late as their 8th-grade year. Throughout a student's time in Middle School Ministry, they will have opportunities to embrace core elements of their faith during weekly worship, messages, and small group discussions. Weekly programming and the annual retreat serve as building blocks for students in preparation for Confirmation. Once a student reaches 8th grade and completes their Confirmation requirements, they will have several opportunities to discuss their choice with the Middle School Coordinator, their small group, and their Small Group Leader(s). Whether a student chooses to confirm their faith or not, 8th grade students transition into the High School Ministry (HSM) from April-May to give students a preview of HSM and what living the faith looks like.
Students in grades 9-12 that are interested in participating in Confirmation, please contact your Campus Student Ministries Coordinator to get more information!
Confirmation Requirements:
Consistent and active participation in MSM or HSM

Participation in at least one Middle School or High School Retreat

Completion of a written Faith Statement

Faith Statement Meeting with Small Group Leader(s)
Students in grades 9-12 that are interested in participating in Confirmation, please contact your Campus Student Ministries Coordinator to get more information!
2021 Middle School Retreats
Our Middle School Ministry is hosting "One Day Retreats" this January/February designed to help students connect with God, each other and their faith in a new and authentic way. Our prayer for these days is to give students a day full of fun that helps them have a strong foundation to build the rest of their life on! In the midst of fun games, breakout sessions and other optional activities throughout the day, we will be guiding students towards living an "Up - In - Out" lifestyle!
Middle School students can choose to join either online (January 23, 2021) or in-person (February 13, 2021) for this experience! Students only need to attend one, as the theme and lessons will be the same. There will be a $10 fee applied to each session at the time of registration. This allows us to ensure both the online and in-person experience will be amazingly geared for that audience. Click HERE to register.
If you register for the digital experience, we will be sending zoom links in the days leading up, and providing more info as the day approaches. It will involve participating in a morning, afternoon and evening session for your student to attend! You will receive an "embrace your faith" kit at home which will include materials to help you follow along, have fun, and remember the day!
If you register for the in-person experience, it will begin in the afternoon and continue into the evening and will include; one meal, games, and fun activities. We commit that it will be a safe way to gather for students, following the CDC guidelines, while creating a joyful atmosphere for young people to grow in faith! As we approach the in-person experience, we will notify families on specifically what their student needs to bring and what to expect.
Confirmation Note: While we invite all of our Middle School students to participate in one of these days - we do want to note that attending one day will meet the 'retreat' requirement for students planning to confirm their faith this spring if they did not attend the retreats during 7th grade! During the day we will discuss how to write a faith story, the meaning of confirmation, and give more specific details about the process and forthcoming celebration for those that are in 8th grade. Full participation in either the digital experience or the in-person experience will be necessary. More details about the confirmation services this spring will be coming in 2021.