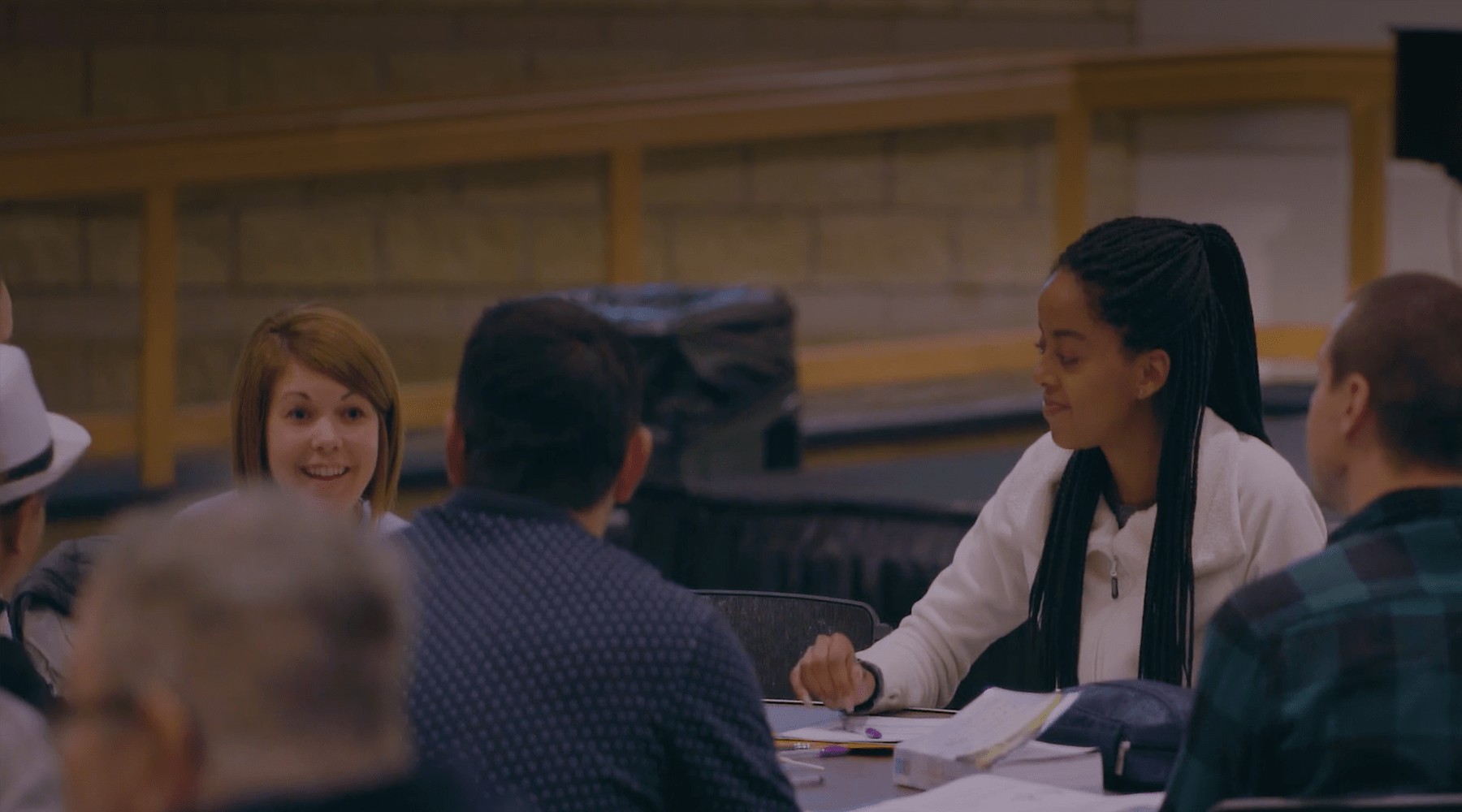 Alpha
Hosanna is launching Alpha groups this May! Join Alpha if you want to explore the meaning of life, who Jesus is, and how to connect faith to everyday life. These 11-week groups will launch the first week of May and meet on multiple days/times of the week. Alpha is run all around the globe, and everyone is welcome. Each talk looks at a different question around faith and is designed to create conversation. Sign
up for more information and to get connected. If you have questions, contact Ali Isabell at
Hosanna Church large groups exist to help you get connected in a three-dimensional faith community. Three-dimensional communities focus on growing UP (relationship with God), IN (relationship with the family of God) and OUT (relationship with the world). Large groups meet regularly at all campuses and are designed to supplement your small group experience. Our large groups and bible studies meet throughout the year and cover a variety of topics. Opportunities are available for women, men, couples and co-ed groups.
Lakeville Campus Large Groups
Career Connections
Hosanna Career Connections is a four-week group experience that's designed to share the hope of Christ with job seekers and equip them to live into the fullness of who God created them to be. If your career has been disrupted or you're looking to disrupt it, the Career Connections volunteer team will help you prepare for landing your next job. Topics include: dealing with career disruption, personal branding, preparing your cover letter and resume, optimizing your LinkedIn profile, acing your interviews, negotiating the offer and committing to continual growth. Prayer support will also be offered.
The next class will take place April 19-May 10.
Thursday Evening Women's Bible Study
WHEN: Thursday evenings, February 4 - May 6
TIME: 6:30-8:30 p.m.
WHERE: Hosanna Lakeville
The Amazing Collection Book by Book takes you on a unique journey through scripture from Genesis through Revelation. This is a study you can join at any point in time and entails:
A discovery of fresh beauty and truth for beginning and advanced Bible students
Workbooks that guide you through each book of the Bible
A deeper walk to knowing the Author of the One book that can change your life
We will be starting with the study of The Early Minor Prophets which starts with the Book of Hosea. We will conclude the year with the book of Acts. We meet each Thursday for group discussion and video teachings, games, and a lot of laughter and prayer.
Men's Group
DATES:
March 16/18 - August 24/26
WHEN:
Tuesday mornings 7-8:30 a.m. OR Thursday evenings 6:30-8:30 p.m.
WHERE:
Online via ZOOM with occasional in-person meetings
The Hosanna Men's Group is a community dedicated to empowering men of all ages to become the people God created them to be. Join Men's Large Group this spring and summer as we unpack the Parables of Jesus. Together, we will dig into scripture, learn about the symbolism and significance of over 40 parables, and apply the timeless lessons that Jesus taught to our lives today.
Women's Wednesday Bible Study
WHEN: Wednesday mornings
WHERE: Online with options to meet in person
TIME: January 27 - May 12, 9:30-11:30 a.m.
We will be studying the book Take Courage by Jennifer Rothschild. The study is based on the book of
Haggai
that is full of encouragement for this challenging season we are experiencing. In this study we will learn how to defeat discouragement through God's presence, His people and His word, stay motivated when opposition and obstacles make you want to quit, learn to trust God more than your feelings and see beyond your current circumstances to a future hope. The study has videos that you will be able to view at home and a study book to work through. You will then discuss what you are learning with your small group through different meeting options.
Mom's Group
WHEN: Wednesday Evenings, February 3rd - Wednesday, May 19
TIME: 7:30-9 p.m. in person or 8-9 p.m. online
WHERE: Hosanna Lakeville OR Online
We are dedicated to building an authentic faith community in which we experience true growth and demonstrate love. This community of moms gathers together to experience Jesus through fellowship, our study, guest speakers, crafts, and outreach. Join Hosanna MOMs Group this semester for a two-part study as we learn how to define our lives by redemption instead of struggle and grow in hospitality, generosity, and stewardship. First, we'll join Nicole Unice in exploring why life can be a struggle and what to do about it. Later this Spring, we'll walk with Ann Voskamp as she explores the practice of offering hospitality, time, money, spiritual gifts, and empathy to the glory of God.
* Unfortunately, childcare is not available in this season.
Need Assistance Getting Connected?
Contact your group leader or the Adult Ministries Staff at your campus if you need assistance.
Shakopee Campus: