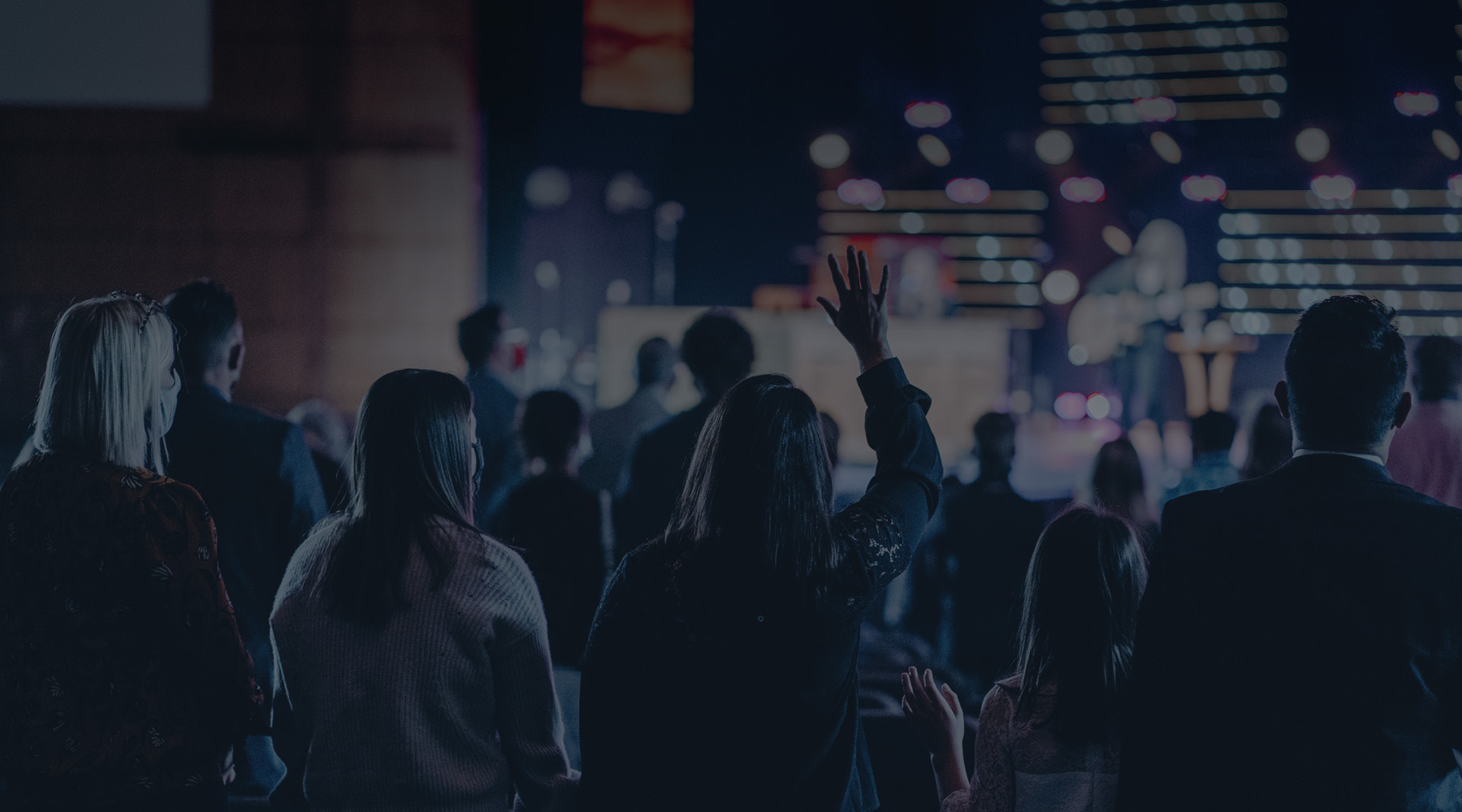 "What an extraordinary year it has been" — Ryan AlexanderDear Hosanna Family,
What an extraordinary year it has been. At this time last year, we had never heard of COVID-19 or George Floyd. We had just set a big focus for the year: Making Room. We had no idea how much room we were actually going to have to make. Nor did we know how appropriate this theme would turn out to be for this year.
This year, we have made room in our hearts and lives by sacrificing for those most vulnerable and stretching for those most impacted by the pandemic. We have made room for God and faith by engaging, growing and worshipping in new ways. We have made room in our perspectives and conversations related to politics, race and Biblical justice. We have made room for deeper humility and bolder faith. Most of all, we have made more room for Jesus! Church, I am so proud of how you have responded to the challenges over the past year as well as how you've seized the countless opportunities to make more room for God and others. And you have done so with irresistible love, generosity and unity.
On this page, you will see undeniable signs of God's faithfulness and abundant provision. You will see a church filled with people who are growing spiritually as well as giving Biblically, trusting God with their finances more than ever before. You will see how those who call Hosanna home have leaned in and stepped up during a time that could have derailed us from our mission, To Humbly and Boldly Be a Church that Looks More Like Jesus. Instead, this season has made us stronger, more focused on our mission and more aligned with His heart to raise up 2,500 multipliers for the transformation of 5,000 families. Only God can do that.
I'm grateful for all the ways you've said "yes" to Jesus. I am so glad that you call Hosanna home — and that we're in this together! Get ready for another year of dynamic spiritual growth and Kingdom multiplication.
Peace,
Ryan Alexander
Hosanna Impact
Mask Making
Over 1,200 masks were made by Hosanna's congregation and were donated to local organizations to assist with personal protective equipment shortages.
Easter Offering for COVID-19 Response
Hosanna's entire Easter offering of $348,109 went outside the walls of the church to address COVID-19 needs in our communities including first responders, housebound, homeless and elderly.
Feed My Starving Children
Hosanna partnered with 17 churches to pack 2,101,896 for Feed My Starving Children, which is enough to feed 5,758 kids for one year.
New Partners in India
Hosanna expanded its network in India with two new partners: Shankar Pawar, who reaches 3,500 house churches with approximately 800 house church leaders, and Abraham Sahu, who leads a leadership network of 183 pastors in 490 house churches across 16 states.
You Feed Them Offering
In January 2020, the You Feed Them special offering brought in $313,952 for Feed My Starving Children, Global Banjara Trust Foundation, Hands of Freedom, and Full Gospel Trust of India for physical and spiritual hunger relief efforts.
Give generously to the poor, not grudgingly, for the

Lord

your God will bless you in everything you do.
Deuteronomy 15:10 (NLT)
Children's Ministries
In FY2020, Children's Ministries enjoyed opportunities to think outside the box and do ministry in ways we never have before! Some of our favorite highlights included online services, drive through "Kid Kits" and at-home kindergarten transitions visits with families. We had several families email us to share how their family loved the home visits celebrating their kids' transition to kindergarten. Families were extremely thankful for the opportunity to share personal struggles and grateful for the opportunity we had to come alongside them in prayer. This upcoming year, we are looking forward to welcoming families back to the building to create a unique weekend and online experience for children.
Baptisms
In FY2020 Hosanna Children's Ministries baptized 130 infants and children across our four campuses.
First Communion
Children's Ministries had 209 kids participate in first communion classes and ceremonies.
Then [Jesus] said to them, "Anyone who welcomes a little child like this on my behalf welcomes me, and anyone who welcomes me also welcomes my Father who sent me. Whoever is the least among you is the greatest."
Luke 9:48 (NLT)
Register for Children's Ministries Watch Children's Ministries Online
Student MinistriesUnited as one ministry
In FY2020, for the first time, Student Ministries across our four campuses were able to meet on the same night, at the same time, using the same curriculum! Dozens of our high school students volunteered as student leaders for middle school groups, and many groups across our ministries came together to pack meals for Feed My Starving Children in February. By God's grace, students were able to attend all of our planned retreats for the year before the COVID-19 hit in the spring. Over the spring and summer, many of our groups continued to meet outside or in homes to watch our online Student Ministries services together. This programming year, we have hopes of increasing our students' serving capacity through partnering with local ministries throughout the year.
Students
In FY2020, we had nearly 1,500 students participate in Student Ministries programming across our four campuses.
Leaders
In FY2020, Student Ministries had 260 volunteer small group leaders, over 40 of which were student leaders currently in high school.
Retreats
Student Ministries had over 900 students participate in weekend retreats in FY2020, a Mile Marker in their faith journeys.
Register for Middle School Register for High School Watch Student Ministries online
Adult Ministries
In FY2020, the Adult Ministries team debuted a brand new Hosanna Core Course called Gospel Foundations, seeking to educate and equip believers on the essence of the faith. Other courses offered in FY2020 included Financial Peace University, Marriage Prep, Marriage Rebuilders, Career Connections and a revamped Discover Hosanna Course. We also developed and trained 46 Community Group leaders through our new community group model toward our goal of "making room" for new Community Groups at all of our campuses. Current Community Groups were trained in the new "Up, In and Out" disciple making model and helped to transition to meeting online in March. Large Group Ministries, like the MOMs group, Wednesday Women's Bible Study, Thursday Women's Bible Study, and Men's Tuesday and Thursday groups, ministered to hundreds of people across our campuses on a weekly basis and adapted quickly to online formats of ministry in March.
Worship Arts
25,354 people attended Christmas at Hosanna across 32 Services
This was Hosanna's largest Christmas attendance ever recorded.
2,400 Music Lessons Given in FY2020
Music lessons transitioned online in the spring, but are now being offered in-person. Registration now open!
3 Original songs released in 2020
To listen to "You are Love," "King Jesus" and "Enthroned Upon Our Praise" along with other original songs, search for "Hosanna Church Music" on Apple Music or Spotify.
12 weeks of live online Thursday Night Worship
In order to embrace the challenges and opportunities that online church provided, the Worship Arts team streamed a worship set on Facebook Live every Thursday for 3 months in a row.
11,500 Christmas Concert Tickets sold
We regret to inform you that due to the COVID-19 Pandemic, this year's Christmas Concert has been cancelled.
Register for Music Lessons Listen on Apple Music Listen on Spotify
Prayer & Care Ministries
In 2020 we embraced the challenges of COVID-19 by creating opportunities online for people to request pastoral counseling, prayer over the phone and Sozo session virtually. We celebrated prayer and care staff being hired or identified at each of our four campuses to lead us to a fully staffed prayer & care team. Care night teaching switched to videos on our Care Ministry Facebook page.
Looking ahead to FY2021, we'll be training and releasing lay chaplains to make hospital and home visits that will share scripture, pray and serve communion. In addition, our Sozo team is expanding and we will be offering both in person and virtual Sozo sessions. Our campus care ministries are working together to provide consistent and unified recovery and care groups. Prophetic ministry training opportunities will be occurring and Inspire Nights will be continuing monthly.
Go to Facebook page Submit a Prayer Request
Don't worry about anything; instead, pray about everything. Tell God what you need, and thank him for all he has done.
Philippians 4:6 (NLT)
HEART Ministry
With all the need right in our backyard in FY2020, HEART stepped up to the plate to be the hope and heartbeat of Jesus in our local communities.
$554,000
In Heartland Outlet sales in its first year, doubling original projections. All funds will be reinvested into ministry efforts.
45
Pallets of materials distributed monthly through our community giveaways and partnerships.
10
Semi loads of meat and dairy given away just in the month of July.
10,950
HEART volunteer hours logged in FY2020.
22
Families per week assisted by HEART to support them the COVID-19 pandemic.
10
Weeks of food distribution at HEART warehouse (160-220 cars per week).
Whoever is kind to the poor lends to the

Lord

,

and he will reward them for what they have done.
Proverbs 19:17 (NIV)
Finances
We continue to be blessed by God's abundant and faithful provision, inspiring faithful giving as well as above and beyond generosity in our congregation. We met our budget and exceeded giving goals for the fiscal year ending August 31, 2020. COVID-19 presented unexpected challenges for the second half of our fiscal year, but our giving remained strong, exceeding planned giving goals.
Looking Ahead to FY2021
Looking ahead to our 2021 Fiscal Year, our Vision Board approved an 8.5% FY2021 budget increase over FY2020 Budget. In June 2020, members approved the $825,000 sale of 7.1 acres of our Lakeville Campus. This is expected to close in the spring of 2021 with proceeds being used for additional tithe and debt reduction as well as support for our ministry priorities.
Online Giving
We continue to leverage our giving platform, Pushpay, to make giving easier. In FY2020 we have added 1,100 new donors and over 650 new recurring giving schedules.
Capital Improvements
$943,854 was allocated for capital improvements, including facility upgrades, production equipment required to support our digital transformation, and security enhancements at each of our four campuses.
Debt Service
Given historically low interest rates, we restructured and consolidated notes. Our current debt balance is $9,063,304 at interest rates less than 3.5%. This is below the 1:1 debt to budget ratio best practice. All debt at our Northfield Campus was paid off. We continually evaluate alternative paydown scenarios to best leverage our resources.
Cash Reserves
We adhere to financial best practices by maintaining a 3 month minimum of cash reserves as required by our lender. We also have an additional 2.5 months designated funds to carry into FY2021 for future growth and capital needs.
Tithe
The total Hosanna tithe for the fiscal year was 12.51% of our budget, or $1,515,975 to support partner ministries, with $868,771 to local and $647,204 to global ministry partners.
COVID-19 and CARES Act Payroll Protection Plan:
When COVID-19 originally impacted us, the economic impact for the non-profit and church world was uncertain. In April 2020, when the CARES Act Payroll Protection Plan became available, we sought wise counsel and perspectives from other faith-based organizations. We felt that applying was in the best interest of our church and staff. Hosanna qualified and received $1,120,000 of PPP funding on April 20, 2020. It ensures continued staff employment and the ministry they provide. We have big faith but we also balance that with a sense of financial responsibility.
PPP funds remain a liability on our financial statements until we complete the required calculations, which we will submit by the end of the calendar year for review. Once approved, this loan will convert to a grant on our balance sheet.
Even though we were blessed with strong FY2020 giving, the full economic impact of COVID-19 remains unclear. We have done extensive financial modeling while we watch the financial trends to determine our best plan forward. We are using these funds as required by the PPP program for staffing, mortgage interest, and utilities. Should we have a budget surplus at the end of our fiscal year, Hosanna leadership will thoughtfully and prayerfully determine the best use of the surplus funds in supporting the vision of Hosanna.
Nationally, 90,000 faith-based organizations received a PPP loan, protecting over 665,000 ministry jobs and the work they do to provide ministry through their churches.
Additional financial information is available upon request. To request, email Jennifer Ford, Executive Director of Ministry Services at .